In the tech tool industry, the battery-powered tool is a significant boom that empowers you to accomplish your longer tasks in a shorter time. In this fast-paced world where everyone is in a hurry, battery-powered tools are a great blessing. Makita is one of the industry-leading brands that own the throne of reliability and longevity of battery-powered tools.
Despite its strong position in the industry, the batteries may malfunction from time to time while using power tools. Whether your battery is old, weary, or a new one, if your Makita battery not charging well, you should troubleshoot the issue.
For troubleshooting the main issue, you should have a thorough knowledge of the potential root causes and their solutions as well. For your convenience, we have made an effort and hide all the quick fixes in this ultimate guide.
So, let's explore it!
Makita Battery Not Charging – Reasons
The main reason behind the Makita battery not charging might be the malfunctioning outlet, dirty terminals, faulted battery/charger, overheated, overcooled, entirely discharged, or dead battery.
Troubleshooting
Makita Battery Indicator Lights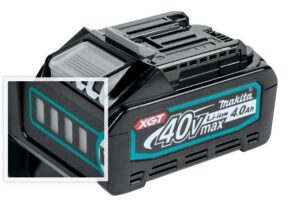 Makita batteries have a power in-built gauge indicator that informs you about the battery power status during charging and usage as well. This superb feature benefits you in both situations.
During charging, it informs you of the power status or charging errors of the battery as well as during usage, and they allow you to assess the remaining power juice and help to make your work plan accordingly.
This onboard LED charge indicator helps you to troubleshoot the charging issues. What you have to do, is just push the button that is alongside the battery icon, and light illuminates the battery icon to show you the power status.
Makita Charger Indicator Lights
Makita chargers come equipped with power indicator lights that indicate to the users about the power status of the battery. If you are well aware of these light indicators, you can assess the charging status and power ratio of your battery easily. You can also easily monitor any charging issue when your Makita drill battery not holding a charge well. Have a look at these lights:
1- Flashing Green Light
When you insert the Makita battery into its charger, the flashing green light indicates the battery is ready to charge.
2- Solid Red Light
After inserting the battery, if the solid green light illuminates, it indicates that the battery is charging well, but the charging status is below 80%.
3- Flashing Red Light
While start charging your Makita battery, if it doesn't hold a charge, the red light starts flashing due to the battery's extremely cold temperature. If the battery is too cold, you see the delaying error.
4- Solid Red and Green Light
During charging, when the solid red and green light illuminate simultaneously, it means that the battery has held the charge above 80%, and now charging is almost going to be completed within a few minutes.
5- Solid Green Light
When the charging is complete, the solid green light indicates you to remove the battery as soon as possible.
6- Flashing Red and Green Light
If your battery faces any charging issues and not holding a charge properly, the red and green lights start flashing simultaneously. It's an alarming indication of your defective battery.
7- Flashing Yellow Light
The flashing yellow light on your Makita charger also indicates the cooling abnormality of your Makita 18V battery.
Reference: https://www.makitatools.com/service/faq#:~:text=Solid%20red%20light%20%E2%80%93%20Charging%20(Battery,and%20green%20light%20%E2%80%93%20Defective%20battery
4 Quick Fixes
When your battery or charger indicator shows any charging issue or your Makita battery is not holding a charge, there might be some minor or major problems. Some minor problems can resolve easily, but if you face any major issue, it might be resulted in replacing with a new battery or contacting a professional technician.
Fix # 1: Check Your Power Outlet
When you plug in your Makita battery charger in the outlet, the charger doesn't show any power sign. You should check out your power outlet's functionality. Follow the steps below:
After the plug-in, if the charger does not turn on, try to plug in other devices or chargers.
If the other devices also don't power on, it means your power outlet is not functioning.
Try another power outlet to plug in your charger.
If the other power outlet fails to turn on the charger, your charger might be faulty.
If the other plug successfully transfers power to your charger, the red light blinks.
Swipe your battery into the charger and see if it works or not.
If the battery works well, keep it on charging until it is fully charged.
If your Makita battery is not holding a charge, try another battery in the same charger.
If the other battery starts picking up charging, your previous battery may be faulty.
Note: After checking the functionality of your power outlet, charger, and battery, try the next method to boost the functionality of your charger and battery.
Fix # 2: Clean Dust and Corrosion
Sometimes, when you don't use a battery or charger for a prolonged period or use them frequently without cleaning, dust, debris, and corrosion build up on the metal terminals. So, clean both of them to enhance their performance. Carefully clean them by following the instructions below:
Take rubbing alcohol, Q-tip, white cloth, and sandpaper.
Turn off the charger and plug it out from the power outlet.
Remove the battery from the charger.
Take the absorbent alcoholic Q-tip and gently rub it on the metal terminals of the charger.
Take the folded sandpaper, dip it in the rubbing alcohol, and rub it gently on the narrow terminals of the battery.
Then wipe all the cleaning material and dust/corrosion with a soft white cloth.
Note: before starting charging and using the battery or charger, dry them completely because wet terminals may lead to serious damage to both of them.
Fix # 3: Store the Battery at a Moderate Temperature
To keep your Makita battery healthy and long-lasting, take care to follow the preventive measures. Sometimes you encounter a cooling delay issue, and your Makita charger indicates this issue with a yellow light indicator.
It happens when your battery is extremely cool and is cooling down due to low temperature. The extremely cool temperature becomes a hindrance in fast charging. Therefore, as a result, the Makita 18V battery takes hours to charge instead of minutes.
To avoid such an annoying situation, store your Makita battery at the recommended temperature of -30°C to 45°C (-22°F to ll3°F). When batteries are idle, and you want to store them for an extended period, keep them in a well-ventilated place.
To prevent your battery from overheating, any potential risk of damage, or any severe mishap, make sure don't expose Makita batteries to high temperatures than (60°C/140°F).
Source Reference: https://cdn.makitatools.com/apps/cms/doc/prod/BL1/c6c56fad-d0bb-482e-b688-abb7b2b0d2b0_BL1830_SDS.pdf
Note: Unfortunately, If the fixes mentioned above don't work, try this one.
Fix # 4: Power Juice from Other Battery
If your battery is entirely discharged or doesn't hold a charge anymore, your battery is in a dead position. To revive your battery to life, you can induce the power juice from a healthy and fully charged battery to your weakened one. To accomplish this intricate task, follow these instructions:
Take your dead battery and a fully charged battery.
Make sure they take both batteries and should have similar Voltage and Ampere.
Place both of them side by side.
Take two speaker wires/insulator wires of black and red colors.
Peel off the wires from both ends to take out the metal wires.
Put one end of the negative (black) wire to the (-Ve) terminals of the dead battery and the other end to the (-Ve) terminals of the alive battery.
Connect one end of the positive (red) wire to the (+Ve) terminals of the dead battery and the other end to the (+Ve) terminals of the alive battery.
After a few seconds of connection, the dead battery starts to sip the power juice from the alive and healthy battery.
Note: for optimal advantage, take good care of battery voltage and empire as well as positive to positive and negative to negative terminals. A wrong connection may lead to battery liquid leakage or an explosion.
Not Fixed Yet (How to reset Makita battery)
If your battery doesn't hold charge despite applying all the methods, here is the last solution for resetting the battery. If you don't know how to reset your Makita battery, try these steps:
Unplug the charger from the power outlet.
Remove the battery from the charger or device.
Keep your battery normal to balance the temperature.
It won't be too hot or hot cold.
Press and hold the power button of the battery for 10-20 seconds.
Then release the button.
Try this method twice or thrice; it may induce a new breath to your discharged battery.
Reinsert the battery into yot charger by fixing it properly till you hear an audible click.
Note: This method helps you well to reform your battery; otherwise, you have to take it to an expert technician, or you have to replace it with a new one. If it has a warranty, contact its customer care services.
Frequently Asked Questions
1- Why is my Makita 18v battery not charging?
Makita 18V battery is not charging due to many reasons, such as a malfunctioning battery or charger, dirty terminals, entirely discharged, improper insertion, extreme temperature, or dead condition.
2- Why is my Makita charger blinking red without a battery?
The Makita charger is blinking red without a battery; there might be some malfunctioning internal that is responsible for creating this issue. Maybe the heating protection system or the circuit board is not working well.
3- Why is my Makita battery charger blinking red and green?
Makita battery charger is blinking red and green lights simultaneously to indicate that the battery is defective and incapable of holding the charge.
4- What is the lifespan of a Makita battery?
The lifespan of the Makita battery is around 3 years, and 1000 recharges. This lifespan is guaranteed by the manufacturer, but if you use the battery with extra care, you can expand its lifespan.
Conclusion
If you are a Makita tool user, you should know why your Makita battery not charging and how to fix it at home without any technical consultation. For your ease and convenience, we have elaborated on the causes and best possible solution. So, go through this precise solution guide; it will enable you to maximize the potential of your power tool by reviving your dead battery and saves you time and money as well.