While using battery-powered tools, a fast and reliable charger is as important as a long-lasting battery. Where cordless tools provide you the freedom to work in a clutter-free workplace, the fast charger cuts down the long charging hours to a minimal duration.
With the wide range of batteries, DeWalt also launches new versions of high-quality chargers to take good care of its batteries. DeWalt DCB112 and 115 are the top-the-line multi-volt battery charger in its whole catalog. It might be a confusing situation to select the best one from both identical twins.
To help you make an informed decision, we have explained the difference between DeWlat DCB112 vs DCB115 chargers. Let's explore their technical specs, pros, cons, and price points.
DCB112 vs DCB115 Major Difference
The main difference between DCB112 and DCB115 is the amps output rating. DCB112 is equipped with 2 amps, and DCB115 has the capability of 4 amps. It means the DCB115 is 2x faster than DCB112 and charges the same battery within half the time as DCB112.
Detailed Comparison Table
Here is the detailed comparison chart of DeWalt DCB112 and DeWalt DCB115. You can see the difference between both identical twin brothers at a glance.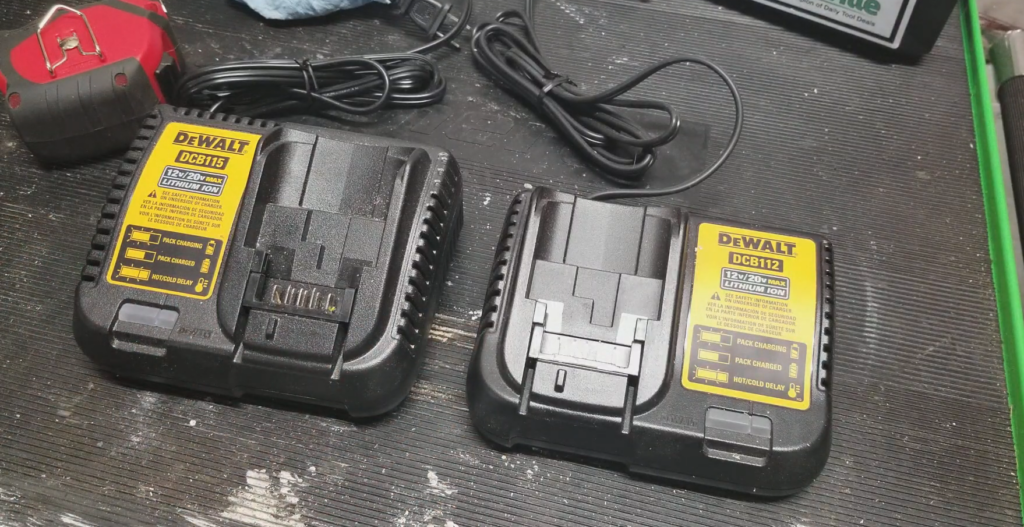 | | | |
| --- | --- | --- |
| Features | DeWalt DCB112 | DeWalt DCB115 |
| Battery Chemistry | Lithium-ion | Lithium-ion |
| Output Rating | 2.0 amps | 4.0 amps |
| Input Voltage | 120V | 120V |
| LED Diagnoser | Yes | Yes |
| Charging Time | 60 Minutes | 30 Minutes |
| Weight |  0.317 Ounces | 0.016 ounces |
References:
https://www.dewalt.com/product/dcb112/12v-max-20v-max-charger
https://www.dewalt.com/product/dcb115/12v-max-20v-max-charger
Technical Specifications
Product Dimensions: 4.25″D x 6″W x 2″H
Input Voltage: 120 Volts (DC)
Charging Time: 1 Hour
Compatibility: 12V to 20V DeWalt Lithium-ion, FlexVolt 20V/60V batteries
Power Status Indicator: Yes
Output Rating: 2.0 amps
Weight: 0.317 Ounces
If you are in search of a fast charger that cuts down the charging duration to the shortest with a minimalist price range, DeWalt DCB112 is the most reliable choice.
It's a compact and lightweight charger that comes with a wall mount capability. It doesn't take up too much space due to its small dimensions, 4.25″ Depth, 6″ Width, and 2″ Height. Thanks to its 0.317 Ounces lightweight which makes it portable and the best fit for your toolbox.
This premium quality charger is compatible with a wide range of Lithium-ion batteries from 12V to 20V as well as FlexVolt 20V to 60V batteries. Additionally, it's also compatible with 10.8V / 12V, 14.4V, and 18V XR Li-ion batteries. During testing, we loved this feature most, which saves the users from the hassle of managing a number of chargers for various tools. Its all-in-one feature saves your time as well as money. You can charge different voltage batteries with it.
Above all, it's faster and better than DCB101, 102, 103, and 107. It's an innovative and upgraded version of its predecessors. it's designed with the latest technology to meet the needs of modern tools. With 2.0 amps output, it's 3X faster than the old type of chargers and quickly charges the battery within a short time of 1 hour.
DCB112 offers you the best value for your money because it's a durable and long-lasting charger. To increase its life span, you must take extra care while inserting the battery. It's a slide-style charger and compatible with batteries that fit on the slides well.
This quality charger comes equipped with onboard LED diagnostics that show you the power status of the battery while charging. When the battery holds the charging well, it indicates "charging." If the battery is charged fully, it indicates "charged." contrarily, if there is any issue with the battery temperature, it shows the indication of " Hot/Cold delay."
Pros
3X faster charging than its predecessors.
Onboard LED diagnostics show the power status of the battery.
2 amps output rating
Compatible with a wide range of DeWalt batteries
Durable and reliable.
Robust build quality and design.
Cost-effective.
Cons
Less fast than the DCB115 charger.
Technical Specifications
Product Dimensions: 3.8″D x 7.6″W x 1.3″H
Input Voltage: 20 Volts
Charging Time: 30 minutes
Compatibility: 12V to 20V DeWalt Lithium-ion, FlexVolt 20V/60V batteries
Power Status Indicator: Yes
Output Rating: 4.0 amps
Weight: 0.016 ounces
When you are overburdened with lots of pending tasks, you just rely on your battery-powered tool. But what if the battery runs out of power in the midst? Here is the best buddy DCB115 charger that takes you out of the annoying situation with the fastest charging capability.
Within 90 minutes, it charges the battery fully to go on extended work sessions. Moreover, if you have cordless power tools with two batteries, you can get significant advantages from DCB115.
If compared to its identical brother, it's 2X more power efficient. Although, apparently, both look the same, and you can't identify any difference between DeWalt DCB112 and DeWalt DCB115. DCB112 gives 2.0 amps output, while the DCB115 provides a 4.0 amps output that plays a vital role in saving power and avoiding overheating.
It's engineered with light but durable plastic. Therefore, it's portable and lightweight. You can take it with you while working on-site, workshop, or at home. Due to its  0.45 Grams, you can't feel your tool kit is overweight or heavy.
Moreover, it comes with a 6 ft cord length that provides you with ease to charge while the power outlet is far away from the working area.
Best of all that, this robust charger is compatible with a wide range of DeWalt batteries such as 12V to 20V Max Lithium-ion batteries, 20V XR, and FlexVolt 20V/60V batteries.  You can get optimal benefits from its versatility if you have a wide range of cordless tools.
As an added bonus, it consists of LED light indicators that diagnose the power status of the battery. You can see the "charging" indication when the battery is charging properly. If the battery is charged fully, the indication of "charged" pop up on the LED screen. On the other hand, when you face any issue during charging or charging doesn't start, it indicates the "Charging problem" or "Hot/Cold delay."
It provides not only a longer run runtime but also a longer lifespan for your DeWalt batteries. It's solid build quality and effective performance makes it a top-of-the-line DeWalt multi-volt charger that can be beneficial for 250+ power tools of DeWalt. Although it's a bit pricier than its peers and other competitors, it's also faster than its counterparts dcb107, dcb101, etc.
Pros
2X more power efficient than DCB112.
4 amps output rating.
Compatible with a wide range of DeWalt batteries.
LED light indicator display.
Compact, lightweight, and wall mountable.
Beneficial for 250+ DeWalt cordless tools.
Cons
A bit pricier than its peers and competitors.
Factors Before Buying the Best Multi-Volt Charger
If you work with a wide range of cordless power tools, the multi-volt charger would be the need of the hour for your convenience. It not only saves you from hassle but also saves you money to spend on multiple chargers for each tool. Before buying a multi-volt charger, you should consider these factors:
1- Input Voltage
The input voltage is the primary factor you should consider before purchasing a charger. You should check the power voltage of your outlet and then check the charger's compatibility with your power outlet. If the charger has a low input voltage, then you have to use the step-down transformer to make it compatible with the charger. Otherwise, your charger may be damaged due to extra power voltage.
2- Amperage
The amperage rating is also an important factor to determine your battery's charging time. The higher the amperage, the faster the charging. High amperage is also suitable for power efficiency, which means the charger produces less heat while charging fastly and prolong the life span of your battery. It's recommended to buy a charger for up to 2 amps.
3- Battery Chemistry
The battery chemistry is the fundamental factor. Without battery chemistry, you can't use any charger. Each battery type has its compatible charger. For example, Nickel-cadmium (NiCd), Nickel-metal hydride (NiMH), and Lithium-ion (Li-ion) batteries all have their charger. So, check your battery type and then consider the best charger for it.
4- Compatibility
The compatibility of the charger is a must considered factor, especially if you are going to have a multi-volt charger. Firstly, analyze the range of tools you use and require a charger. Then check out the charger compatible with your batteries. After the detailed analysis, make a purchase.
5- Charging Time
Checking the charging time of the charger before buying is exceptionally beneficial for you. It not only saves your time but also saves the cost of electricity. Opt for the charger that claims to provide faster charging time with power efficiency.
Conclusion
We have reviewed all ins & out, the pros & cons, technical specifications, and key features of both chargers. Now you should be fully aware of the differences between DeWalt DCB112 vs DeWalt DCB115. So, which one you should go for? The major difference between them is price and power efficiency with fast charging.
DCB115 charges more quickly as compared to DCB112 and is more power efficient which is best for the longevity of your battery. If you want a fast charging capability with more power efficiency, you can go for DCB115. On the other hand, if you want a budget-friendly charger for future investment and get a long-term benefit, you should spend on DCB112.
In one line DeWalt DCB115 is a winner here.