Whether you use a drill for your DIY projects, home repairs, or for professional wood, metal, or masonry tasks, the cordless drill is the need of the hour. It's an indispensable cordless partner when you need a lightweight and portable tool to keep with you while drilling in narrow areas and hard-to-reach spaces. Especially the cordless drills with 2 batteries that stand with you in extended working sessions.
The market is full of tons of drill brands that manufacture a wide range of cordless drills with different specs, features, and price notes. Choosing the best one is a challenging task. If you are in a hurry and do not have enough time to conduct extensive research, we have made things easier for you. We have researched and selected the top-rated cordless drills of different brands and tested them practically on varied materials. Finally, we have compiled a list of the 3 best cordless drills with 2 batteries that help you choose the best one.
Why You Need a Cordless Drill with 2 Batteries
You require a cordless drill with 2 batteries for various reasons. Firstly, the 2 batteries drill provides you with a long run time while working on a large big project. If one battery runs out, you can use the other to continue your work without interruption.
The extra battery works as a backup power source. Therefore, you don't need to worry about the power going out during working on any important task. Above all, you can use both batteries alternatively; while using one, the other is on charge. You can accomplish your project without any distractions.
Comparison of 3 Best Cordless Drills
| SPECS | DEWALT (DCD771C2) | Bosch GSR18V-190B22 | GOXAWEE Power Drill |
| --- | --- | --- | --- |
| Max Rotational Speed | 1500 RPM | 1700 RPM | 1350 RPM |
| Voltage | 20V | 18V | 12V |
| Amperage | 1.3 AMPs | 1.5 AMPs | 1500 Microamps |
| Max Chuck Size | 0.5 inches | 13 Millimeters | 10 millimeters |
| Torque | 530 Inch Pounds | 480 Inch Pounds | 266 Inch Pounds |
| Max power | 300 Watts | 850 Watts | 800 Watts |
| Material | Steel | Plastic, Metal | Plastic, Metal |
| Batteries | 2 Lithium-ion max batteries | Lithium-ion max batteries | 2 Lithium-ion batteries |
| Weight | 3.64 pounds | 2.75 Pounds | 4.2 ounces |
| Included Packaging | 1 x DCD771C2 drill/driver, 2 x 20V max batteries, 1 x compact charger, 1 x contractor bag | 1 x GSR18V-190 18V Compact 1/2 In. Drill/Driver, 2 x 18V 1.5 Ah SlimPack Batteries, 1 x BC660 18V Charger, 1 x Carrying Bag | 1 × Drill; 1 × Charger; 2 × Battery, 1 × Masonry Drill Bit, 1 × Flexible Shaft Driver, 1 × Socket Adapter, 1 × Hex Screwdriver Holder |
Best Cordless Drills With 2 Batteries (2023)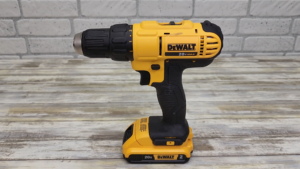 In the tech industry, Dewalt has owned a royal position among its competitors. It's well-known for manufacturing reliable, durable, and long-lasting battery-powered tools. DEWALT (DCD771C2) 20V Max cordless drill is one of the best models of the latest catalog that comes with 2 batteries.
This fantastic cordless drill is very compact, lightweight, and portable. It serves you to complete various drilling tasks. With the excellent power motor, it delivers 300 unit watts out (UWO). Its high UWO rating makes it powerful and sufficient for drilling the hardest materials. As an added benefit, this robust cordless drill offers dual variables of (0-450 and 1,500 rpm) in maximum rotational speed. You can change the speed according to hard and soft material.
Additionally, it's equipped with a 1/2-inch single-sleeve ratcheting chuck that grips the bit tightly and prevents it from shaking and falling during the drilling process. Plus, its ergonomic handle adds to your convenience while working with different postures like overhead drilling. Top of all, it comes with 2 batteries that provide you the uninterrupted long runtime.
Main specifications
Maximum Rotational Speed: 1500 RPM
Amperage: 1.3 AMPs
Voltage: 20 Volts
Weight: 3.64 pounds
Pros
The potential power of the motor is 300 unit watts out (UWO).
Dual variation of rotational speed (0-450 and 1,500 rpm).
Offers a tight and secure bit grip with a 1/2-inch single-sleeve ratcheting chuck.
Provides dual 20v Max batteries.
Cons
If you are looking for a small tool with robust performance, you can't go wrong with the Bosch GSR18V-190B22. It's a top-tier cordless drill with a treasure of the best features. It's equipped with a keyless ratcheting 1/2 inches chuck that has the auto lock capability. It enables you to change the bit quickly and secures it for fastening and drilling.
In addition, the two-speed settings provide dual variations to work efficiently on applications requiring high speed at 0-1700 RPM as well as high power at 0-450 RPM. Furthermore, you can increase your productivity with the latest torque rating.
This best cordless drill comes with two 18V batteries. Having a dual battery permits you to work efficiently without interruptions during a power outage. The next-gen lithium-ion technology increases the battery's run time which meets your needs for longer working sessions. Plus, the battery set is specifically designed to remove heat while working or charging, adding to the battery's life span.
Above all, the quick charging feature makes this cordless drill the best choice for DIY enthusiasts and professionals as well. It offers the quickest charge time of 8.7 min/ah.
Main specifications
Maximum Rotational Speed: 1700 RPM
Amperage: 1.5 AMPs
Voltage: 18 Volts
Weight: 2.75 Pounds
Pros
Elegant and durable build quality.
Dual speed variations for high speed and high power.
Excellent torque rating.
Two 18V 1.5 ah batteries.
Convenient ergonomic handle.
100% compatible battery with other Bosch devices.
Cons
The batteries are not equipped with a charge indicator.
GOXAWEE power drill set is a tiny powerhouse that allows you to work for in-house projects, automobile workshops, and wood, metal, or masonry tasks. This aesthetically pleasing cordless drill offers not only versatile productivity but also accuracy while working on multiple projects.
This high-quality drill/driver is equipped with an auto-lock metal keyless chuck. It enables you to change the bit, even handle it with one hand, and save your precious time while drilling and screwing. The auto-lock chuck grips the bits securely without any danger of dripping and wobbling bit.
Moreover, the adjustable speed mode offers a two-speed variation that enables you to work consistently and accurately on multiple materials. It also offers 18 adjustable clutch positions to work with variable clutch settings according to screwing or drilling requirements.
Additionally, this superb drill provides a max of 30N.m torque that is appropriate for everyday tasks as well as high-end projects of the hardest materials. Top of all that, this cordless drill with an extra battery that gives you power backup while working on extended tasks without intervals. Overall, it's the best cordless drill with 2 batteries and a charger with rich features at an affordable price.
Main specifications
Maximum Rotational Speed: 1350 RPM
Amperage: 1500 Microamps
Voltage: 12 Volts
Weight: 4.2 ounces
Pros
Dual batteries provide a long run time.
Easy to use in hard-to-reach spaces.
Auto-lock drill chuck grips the chuck firmly.
Dual variable speeds for multiple tasking.
18 variations of clutch settings.
Cons
The motor gets warm after prolonged use.
Frequently Asked Questions (FAQs)
1- Are cordless drill batteries interchangeable?
Batteries for cordless devices may be interchangeable or not; the situation varies by brand or model. Some brands offer interchangeable batteries that can fit properly into any of their tools. On the other hand, some brands' models require a specific type of battery that can't be interchanged with any other device.
If you want to opt for a cordless drill with interchangeable batteries, the Bosch GSR18V-190B22 is the best choice for you.
2- What is the best battery for a cordless drill?
The best battery for the cordless drill depends on its brand and model. Some models require specific batteries, and others can be powered by various other tools' batteries. In accordance with the latest requirements, lithium-ion batteries consider the best of all. These batteries offer long run time, quick charge capability, and extended lifespan.
3- Are DeWalt 20v and 20v Max batteries interchangeable?
Yes, all the 2oV and 20V Max batteries are interchangeable with the Dewalt different devices and chargers as well due to their same physical dimensions.
4- How many years do cordless drill batteries last?
The cordless batteries last from 3 to 5 years. The average lifespan of batteries varies according to their charging cycles, generally 1,000-1,200 cycles. The battery's long life also depends upon its care and usage. You can prolong its lifespan if you use your battery carefully and charge it without overcharging under appropriate temperatures.
Conclusion
We converted all the results of our extended research into words to help you find the best cordless drill with 2 batteries. We have explained all the specs and features, as well as the pros and cons of each product. Despite doing the exhausting research of tons of drills, just go through this precious piece of information. It helps you to select the best one according to your working nature and budget.