As a woodworker or metalworker, you would love to scale up your workshop with an addition of high-end power tools. Especially for your drilling purposes, you not only need a drill press with a bumper features pack but also gives the best value for your money.
The market is flooded with various brands that manufacture tons of drill presses, but Nova stands out from the crowd due to its innovative features and latest technology. The Nova Viking is the most powerful drill press from Nova's entire catalog.
Here I came with the unbiased Nova Viking drill press review after using it for a month. I used it for different materials and various workpieces (small. Large, thin, thick, soft, and hard). I'll walk you through the technical specs, features, pros, cons, and price range of Nova Viking that will help you to make a decision while buying the best drill press.
Who makes Nova Viking Drill Press?
Tecknatool company has been manufacturing and exporting modern tools and accessories since 1980. Basically, it's a New Zealand company manufacturing in China. Under the Nova brand, it manufactures products according to emerging technologies to meet the expectations of the next generation.
For 25 years, the Nova brand has boasted of collecting awards for various tools. Its wide range of catalogs includes Lathes & lathe accessories, chuck bundles and accessories, drill presses, and DVR motors. Nova Viking is the new benchmark in the category of benchtop drill press with its smart, energy-efficient, and cutting-edge technology.
Nova Viking Drill Press Review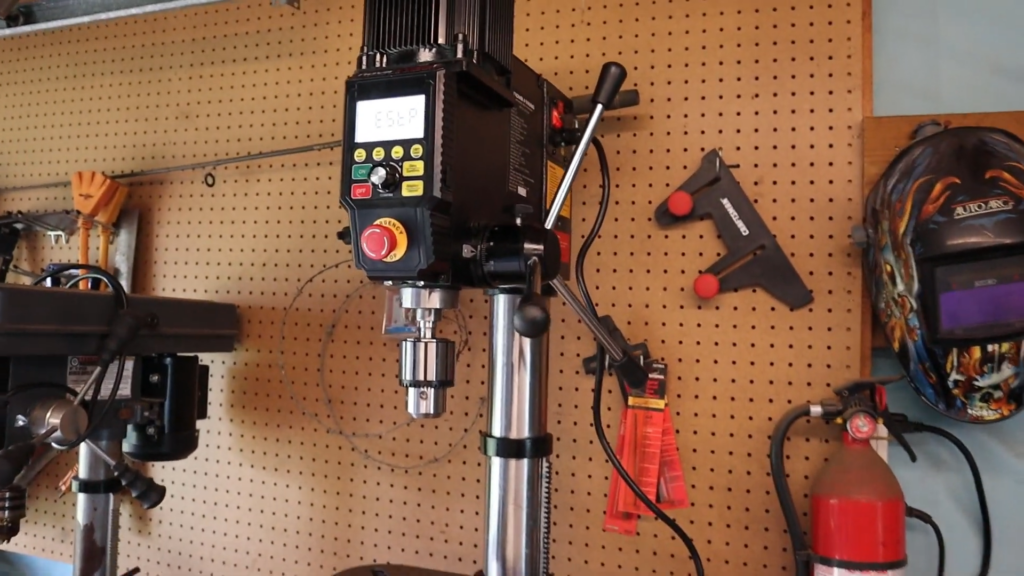 | Specifications | Details |
| --- | --- |
| Speed Variation | 150 – 3,000 RPM (programmable to 5,000 RPM) |
| Chuck Size | 5/8" (1-16mm) |
| Swing | 16" |
| Stroke | 4.5" |
| Spindle Taper | 2MT |
| Spindle to Table | 12 2/3″ (320mm) |
| Spindle to Base | 22 2/3″ (575mm) |
| Quill | 4.5" of quill travel in just 1 1/4 revolutions of the handle |
| Motor | DVR (digital variable reluctance) smart motor |
| Motor Power | 1HP |
| Input Power Supply | 110V-220V, MAX 10A-15A, 50Hz/60Hz |
| Weight | 154lbs/68.85kgs |
Nova Viking 16" DVR drill press comes with the DVR (Digital Variable Reluctance) smart motor powered by STRIATECH. This 1HP powerful motor not only provides you with the optimal torque rating but also has controllable features. I love to use it and consider it a superb addition to my workshop. I was fed up with changing the belts in the pulley system of my old drill press. After using it, I felt like heaven with the smoothest work. Its belt & pulley-free system gives you significant advantages over conventional drill presses.
It saves you from spending a lot frequently on new belts due to daily wear and tear. It also saves a lot of energy due to power efficiency as well as silent and vibration-free motor provides you with a calm environment. Durability and reliability are the main key features of the motor that enhance your productivity.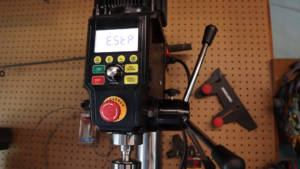 I was really impressed by its incredibly large LCD digital display on which you can read out the numbers, preferably in fractions or decimals. This heavy-duty beast offers 150 – 3,000 RPM (programmable to 5,000 RPM). This versatile drill press is the best fit for variable materials like plastic, wood, and metal. Additionally, you can use it for variable purposes like deep holes on large workpieces, screwing larger nuts & bolts on dense material, mortising, and sanding as well.
It offers right and left torque speeds alike, specifically for LH (left-hand) drill bits; it works like a wonder with exceptional flexibility. With it, you don't annoy with impossible worn out or broken nuts & bolts.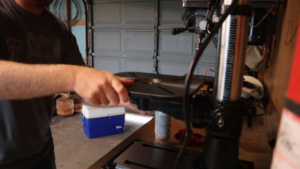 Moreover, an electric depth stop allows you to program it for any specific depth requirement for drilling. It automatically stops at your fixed depth. It's a significant edge for me while boring similar and repeated holes. Plus, the solid cast iron table is adjustable and tiltable, allowing you to drill at different angles for different tasks.
Above all, the efficient and convenient self-start feature make it a robust guard that saves you from accident and injuries. You just have to press a button to turn it on and release the button to stop it. It's greatly beneficial, especially working on larger workpieces.
The only downside is it comes with a keyed chuck. Although the keyless chuck also prevents the drill press chuck to fall out by tightening it firmly with the key, yet a time taking process. The keyless chuck is a faster and one-hand-handled process comparatively.
Pros
DVR (digital variable reluctance) smart motor.
Offers 150 – 3,000 RPM (programmable to 5,000 RPM).
Adjustable and tiltable solid cast iron table.
Less risk of injury with the self-start feature.
Electric depth stop.
Incredibly large LCD digital display for instructional readouts.
LED light illuminates the workplace.
Dual lasers keep you focused on the targeted area.
Cons
It comes with a keyed chuck that can be replaced by spending extra pennies.
What People Say
Before buying the Nova Vikin drill press, I spent hours researching extensively. I have gone through the different forums and platforms to explore what people say about this drill press. After going through the hundreds of verified satisfied buyers, I decided to purchase this robust drill press, and luckily, it proved to be a game changer for my woodwork.
Let's take a bird's eye view of some satisfied and happy users:
Usually, customers feel pleasure to have this featured packed giant at a lower cost than other drill presses with minimalist features and higher prices.
It's Worth every penny!  says Todd Windsor.
The satisfied customers praise its build quality, auto start & stop feature, and mechanical depth stop. These innovative features make it a true love for DIYers, hobbyists, and professionals as well.
Nova Viking vs Voyager Drill Press
In the Nova family, the Nova Viking drill press and the Nova Voyager drill press are both heavy-duty cousins, with great similarities between them. To differentiate them by their features and specifications is rather difficult. But the major difference between Viking and Voyager is the price points.
Both drill presses come equipped with high torque powerful motor, self-start system, mechanical depth stop, variable RPM, sensors for security, without belts & pulleys, digital LCD display readouts, LED light, dual laser light, and so on. Despite all similar features, Viking is a cost-effective option with all bells and whistles compared to Voyager. Overall, it's the best benchtop drill press for metal, plastic, and woodworking.
Features
Nova Viking drill press
Voyager Drill press
Variable Speed
150 – 3,000 RPM

(Can be increased to 5,000 RPM)

50-3000 RPM

(Can be increased to 5,500 RPM)

Drill Chuck
5/8" (1-16mm)
16 mm
Motor Type
DVR
DVR
Motor Power
1HP
1.75 HP/2 HP
Power Supply Input
120-220V
110V, 10A (For 1.75HP output)

220V, 10-15A, 2HP (2HP output requires plug change)

Swing
16"
18"
Quill Stroke
4.5"
6"
Quill Taper
2 MT
2 MT
Weight
154lbs
307lbs
Price
$1,199
$1,999
Considerable Factors Before Buying
Before buying a drill press, you should consider some essential factors that help you to make an informed decision. Have a look at these essentials:
1- Variable Speed
Variable speeds feature is a must-have spec a drill press should consist of. While you are working with different materials on variable tasks. You can use your drill press for milling, drilling, sanding, mortising, and screwing, you require different speeds for each purpose. If the drill press offers speed variation, you can do your work with great precision.
2- Motor Power
Motor power is the primary factor that is responsible for the longevity, safety, and accuracy of your drill press. Powerful motor provides you the high torque and speed to accomplish the larger projects and hardest applications. The heavy-duty motor should have at least 1 HP and more.
3- Size & Weight
The size and weight of your power tool should be according to your preference and needs. If you have enough space to manage the big and heavy-weight machines at your workplace without moving them frequently to other areas, you can go with the heavy ones. On the other hand, if you are an advocate of portable tools or have a congested workplace, you should consider the compact and lightweight drill press.
4- Chuck Type
Drill presses generally come in two chuck types: keyed or keyless. It's all up to you to select the one as per your preference. Managing the keyed chuck is a time-consuming process. Contrarily, the keyless chuck is easy to handle and faster to manage single-handedly. Both work well to tighten and strengthen the drill bit.
5- Table Features
Before buying, check out the table features, such as adjustability and size. These are very necessary to drill from different angles. If your table is tiltable and swipeable, you can easily drill on the workpiece from any angle.
6- Depth Stop
Depthstop is crucial to work with accuracy and precision. You can set your depth stop at a required measurement and while drilling the holes, the drill press prevents holing more deeply than your requirements. The latest drill presses come with a mechanical depth stop with digital readouts. This innovative technology is more beneficial than ever.
7- Pricing
As far as the price is concerned, the drill presses vary from each other. The prices of a drill press are according to the brand reliability and feature availability.  Therefore, firstly consider your needs and budget and then select the best one. Don't ever compromise on quality to save a few dollars. These heavy machineries are future investments that return a lot which you spend.
Conclusion
In this honest Nova Viking drill press review, I have almost explained each and every detail of this elegant power machine. If you are going to buy this one, you don't need to explore the lots of forums and do tiresome research to see what benefits it's offering. I also told it's cons but the pros overweighs the cons. For buying it, you don't have to break the bank. It's a budget-friendly choice as compared to its peers and competitors.