DeWalt DCB chargers are unparalleled among its peers and competitors. They are designed by utilizing innovative technology to give your battery a new and prolonged life. You can rely on it to fulfill your powered tool battery timing requirements. Among the whole class, DCB107 and DCB112 seem similar in specs and features.
If you are confused while selecting from both of them, you should be aware of the detailed internal and external specs of both gears. To save you from tiring research, we have reviewed DeWalt DCB107 vs DCB112 and explain even the tiniest detail that helps you to make an informed decision.
DCB107 vs DCB112 Major Difference
The main difference between DCB107 and DCB112 is the AMPS output rating. DCB112 has 2 Amps output rating that enhances the charging time and minimizes the downtime of the battery as compared to DCB107.
DeWalt DCB107 vs DCB112 Differences
To make the long story short, here is a quick overview of all technical specifications of DCB107 and DCB112. Through our extensive research, we analyze both of these gears that apparently look the same. We compare them by using them practically in various tests. Here is the result of our efforts in the form of a detailed comparison chart that saves you from wandering about other platforms to collect information about them.
| | | |
| --- | --- | --- |
| Features | DeWalt DCB107 | DeWalt DCB112 |
| AMPs Output Rating | 1.5 AMPs | 2 AMPs |
| Charging Time | 1 Hour | Less than 1 Hour |
| Input Voltage | 120V | 120V |
| Compatibility | 12V-20V | 12V-20V |
| Battery Cell Type | Lithium-ion | Lithium-ion |
| Material | Plastic | Plastic |
| Certification | Energy star | N/A |
| On-board Indicators | Yes | Yes |
| Dimensions | 5″D x 5″ W x 3.5″H | 4.25″D x 6″W x 2″H |
| Weight | 0.69 Ounces | 0.317 Ounces |
| Price | $28 | $28 |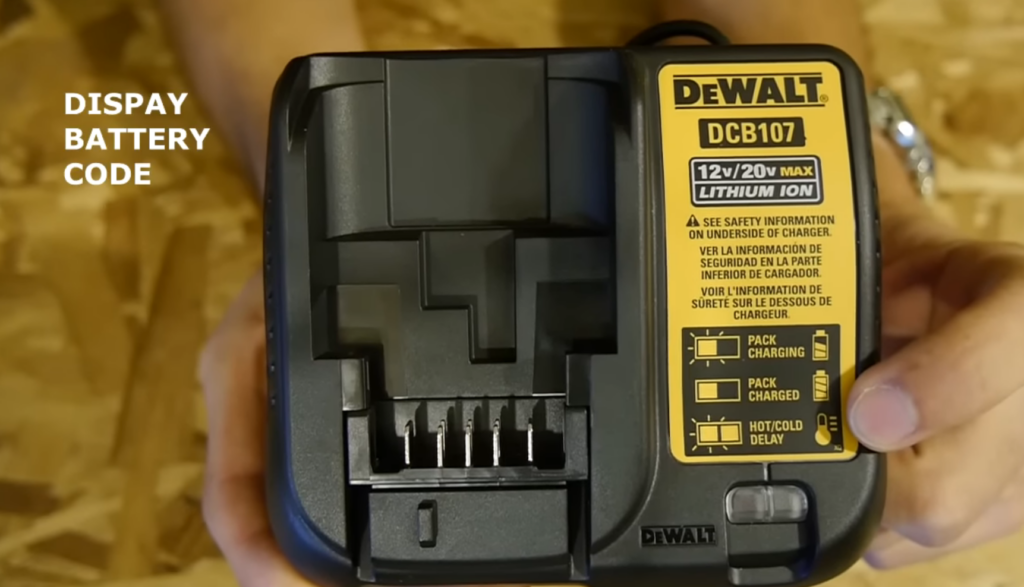 Technical Specifications
Product Dimensions: 5″D x 5″ W x 3.5″H
Input Voltage: 120 Volts
Charging Time: 1 Hour
Compatibility: 12V to 20V MAX DeWalt Lithium-ion batteries
Power Status Indicator: Yes
Output Rating: 1.5 amps
Weight: 0.69 ounces
If you have a variety of battery-powered tools consisting of 12V and 20V, the DeWalt 20V DCB 107 charger is amazingly efficient to stand with your tools. It's a reliable charger that helps you charge your battery quickly when needed for urgent tasks.
It comes equipped with a 1.5 AMPs output rating that charges your battery quickly in 1 hour. It's also power efficient that converts the current into maximum energy and generates less heat as compared to ordinary and older chargers. Less heat production means a better environment. It's certified by energy star, proving it to be the best environment-friendly charger.
Whether you have a single tool or more than one tool for multiple tasking, its wide compatibility enables you to use it to charge 12V to 20V max batteries effectively.
It boasts LED power status indicators that help you track your battery's power ratio while charging. It's the safest charging strategy that DeWalt has applied to its DCB series. This feature not only helps to avoid any potential issues regarding charging but also increases the lifespan of your battery.
Thanks to the LED indicators that keep you aware of the safe charging process by illuminating red flashing lights in front of the "charging" battery icon. When the battery is charged fully, the solid red light illuminates in front of the "charged" battery icon. When your battery is not capable of holding a charge due to extreme temperature, this intelligent guy warns you by illuminating red and blinking yellow light in front of the hot/cold delay battery icon.
The single downfall is it's a bit slower than its successors. If we compare DCB107 vs DCB115, the DCB 115 seems faster.
Pros
Fast charging capability.
Produces less heat.
Certified by energy star.
Durable and versatile.
Diagnostic lights keep you aware of battery status.
Cons
A bit slower than its successors.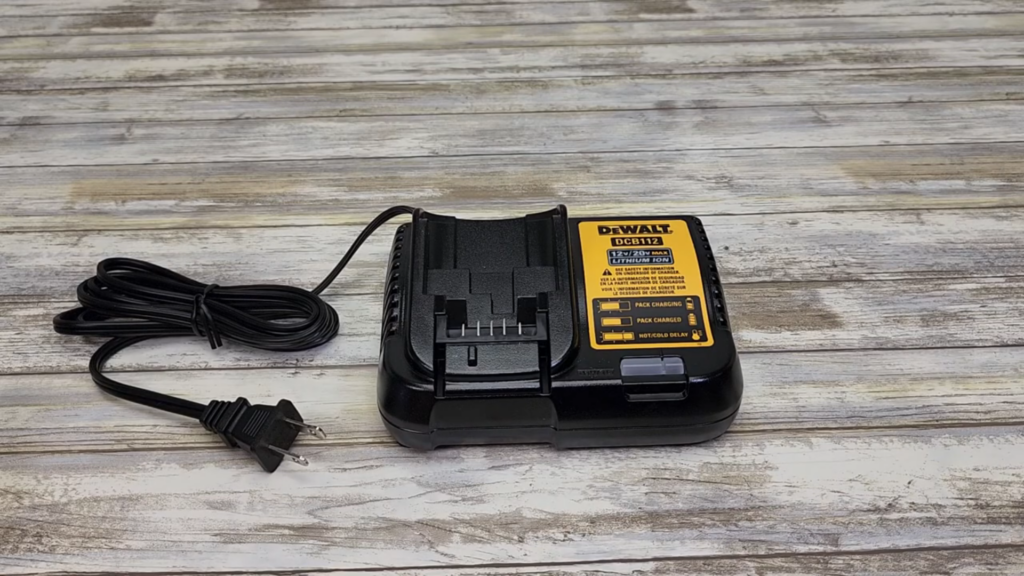 Technical Specifications
Product Dimensions: 4.25″D x 6″W x 2″H
Input Voltage: 120 Volts
Charging Time: Less than 1 Hour
Compatibility: 12V to 20V DeWalt Lithium-ion
Power Status Indicator: Yes
Output Rating: 2 amps
Weight: 0.317 ounces
DeWalt DCB112 is the successor of DCB 107. DCB112 came with a significant addition of amp rating and a higher charging rate. With a 2 amps output rating, it's not only capable of charging the battery fastly, less than an hour but also saves this charging amazingly by reducing the downtime.
DCB112 is compatible with 120V input voltage. It works great if you use it with a power outlet that produces 120V. If you live in an area where the voltage is too lower or too higher than its consuming capacity, you should use the reverse transformer or a specific adapter that converts the high voltage into the specific needs of the DCB112 charger.
This fabulous charger boasts of its smart and elegant look due to the  4.25″D x 6″W x 2″H dimensions and 0.317 ounces light weightedness. It can meet the needs of your multiple tools when the batteries need to recharge frequently. Its reliability and accuracy are out of the question. This incredible charger stands with you steadily while in any urgency.
Top of all, it comes with superb LED indicators illuminating the different lights to help you diagnose your battery's current power status. With this awesome guy, you keep aware of any issue if your DeWalt battery is not charging fully or partially.
You just have to be well aware of the light indicators, which light is actually illuminated for a specific purpose. These indicators consist of three types of lights for "charging," "charged," and "hot/cold delay."
This high-end gear is far better than older and average chargers in terms of versatility. You can use this charger for up to 250 Dewalt battery-powered tools. You just see the capacity of the battery and the DCB115 charger. It's compatible with 12V and 20V DeWalt Lithium-ion batteries.
Here is the kicker!
You can get this awesome gear at the same price as its predecessor DCB107. At the same price, you can have additional benefits. It's a great band for your buck.
Pros
Efficient LED light indicators.
Keep you aware of charging issues.
Versatile, flexible, and safe.
Aesthetically elegant and durable.
Guarantees the longevity of your battery
Cons
Some users face battery placement issues.
Final Buying Guide
If you want to buy the best DeWalt charger that is capable of charging your DeWalt batteries efficiently, you should have some factors in your mind. Some important basic factors are considered crucial that a fabulous charger must have. Therefore before shopping, go through this buying guide to make a sensible decision according to your requirements.
1- Input Voltage
Input voltage is the primary factor you should consider before buying a charger. Usually, most chargers come with the compatibility of 120V. If you live in the US, it's the best thing to have a charger of 120V. Contrarily, if you live in other countries where the wall outlet voltage is too high or too low, you should buy a specific adapter that converts the high voltage to the required input voltage.
2- AMPs Output Rating
AMP is a scale for measuring the output current rating that the charger induces in the form of power juice to your battery. The higher the Amps rating, the more efficient the charger. With the increased rating of Amps, the charging capability increase as well. Utilizing the current for maximum energy and minimizing heat production is also beneficial. It's best for saving electricity costs. Therefore, choose the DeWalt charger with a higher AMPs rating.
3- Compatibility
The compatibility of the charger with your specific tool is the most crucial factor to be considered. Firstly, you should analyze the cell type compatibility of your battery as well as your charger. Then check the voltage capacity of your battery and the charger you want to utilize. Look at the recommendations and instructions that are mentioned on the charger. Don't put your battery forcefully into the charger. Compare the size, dimensions, and style of the battery and charger as well.
4- Price
For some users, the price is meant to be a lot. But we advise always looking at the features and specs. Don't compromise on cheap quality chargers due to cheaper prices. The high-end charger with future-proof qualities is the best future investment that provides you with long-term benefits. DeWalt has launched a wide range of cost-effective chargers with amazing latest features.
Conclusion
In this precise guide, we have tried to answer every question you might encounter when you want to differentiate between DeWalt DCB107 and DeWalt DCB112. It's a short piece of content with an ocean of information about these two gears. After going through it, you will be able to choose one of them without any hesitation. So, why wait? Go and enrich your tool kit with one of these valuable gears.